Our chair covers will transform a room of plain old chairs into a truly special occasion. Our chair covers are of great quality and they are fresh, clean and ready-to-go! We offer 4 night weekend rentals so you are not rushed! Pick up Thursday and drop off Monday. Minimum order to book linens is $200.
Chair Cover Prices as low as 99 cents with rental of other items!. To receive an online quote please click here!
---
Spandex Chair Cover
Do you like a tight fitted chair cover? This will transform an ordinary chair from drab to FAB! Will work with round top padded banquet chairs, folding chairs, plastic tub chairs with metal legs. Colours: White and Ivory!
---
Premium Scuba Chair Cover
Beautiful, high quality White Genuine Scuba chair covers made to fit banquet chairs with round or square tops. Wrinkle Free.
---
Universal Satin Chair Cover  
Our universal satin chair covers are designed to fit most chairs. They fit over the entire chair and tie in back. Our covers are Ready-To-Go! No need to iron or steam! white, ivory, black, silver, champagne
---
White Ruffled Spandex Banquet Chair Cover
This RUFFLED stretch spandex banquet chair covers will make your event a memorable one! Will fit round or crown top banquet chairs. Not to be used on square top chairs. Ruffles add a touch of class. Colours: White only!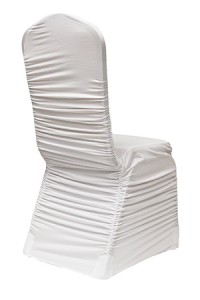 ---
Products may not be exactly as shown – please visit our showroom to view in person.