Voted Top 5% in the Wedding Industry!

Universal Satin or Spandex chair covers $1.25!

Premium Scuba chair covers  $1.35!

Ruched Spandex banquet chair covers $1.95!

Folding chair covers 99 cents!
NEW! BEST QUALITY CHIAVARI CHAIR RENTALS WITH CUSHION ONLY $5.95!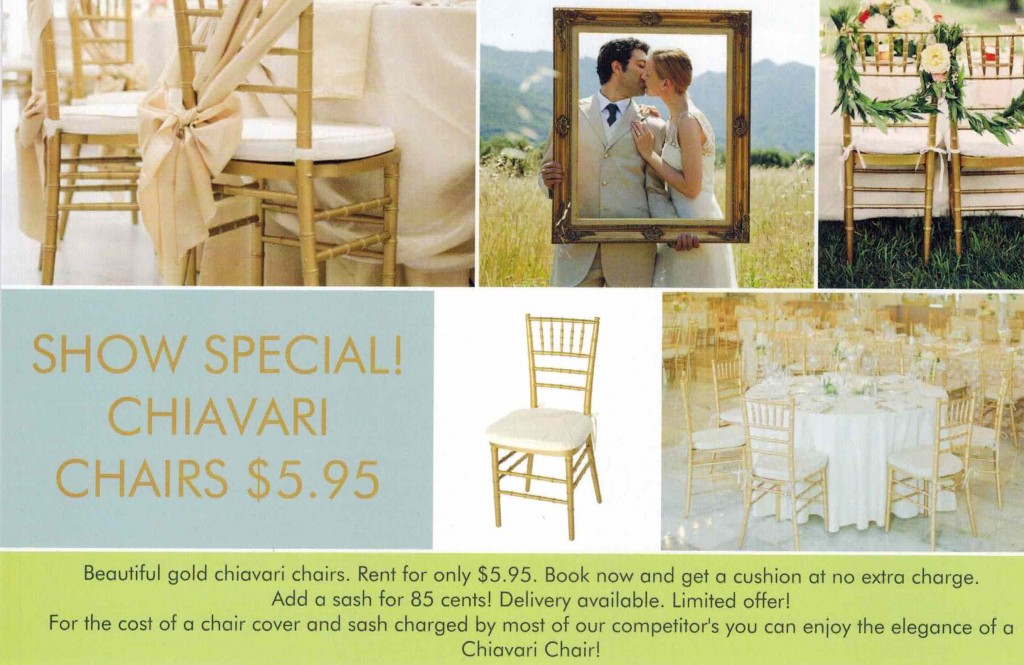 All West only rents high quality resin chaivari chairs.  Chiavari chairs are made from either metal, wood or resin. Metal chairs are the cheapest quality and usually have fewer crossbars built into the frame from what you would see in a classic chiavari chair. Wood chairs are better quality than metal. Since both types of chairs have a painted surface, scratches etc expose the wood or metal directly below the paint surface. A high quality resin chiavari chair has the classic look you want, and the resin colour is all the way through the chair, making it more durable.  The frame is a single piece, without screws, so they do not wobble with usage. We rent the best quality resin chaivari chairs.
Nobody does it better! We have a commercial location with a showroom, on-site cleaning and storage.  You get fresh, clean linens that are ready-to-go! We control our quality so you do not have any unpleasant surprises. View our customer past wedding pictures for ideas and be sure to read past customer reviews.
Free Consult! Make an appointment to discuss your special event plans and how we can help make your day Fabulous and Affordable!
We offer the best value, for the best price, of any commercial linen rental company in Edmonton!