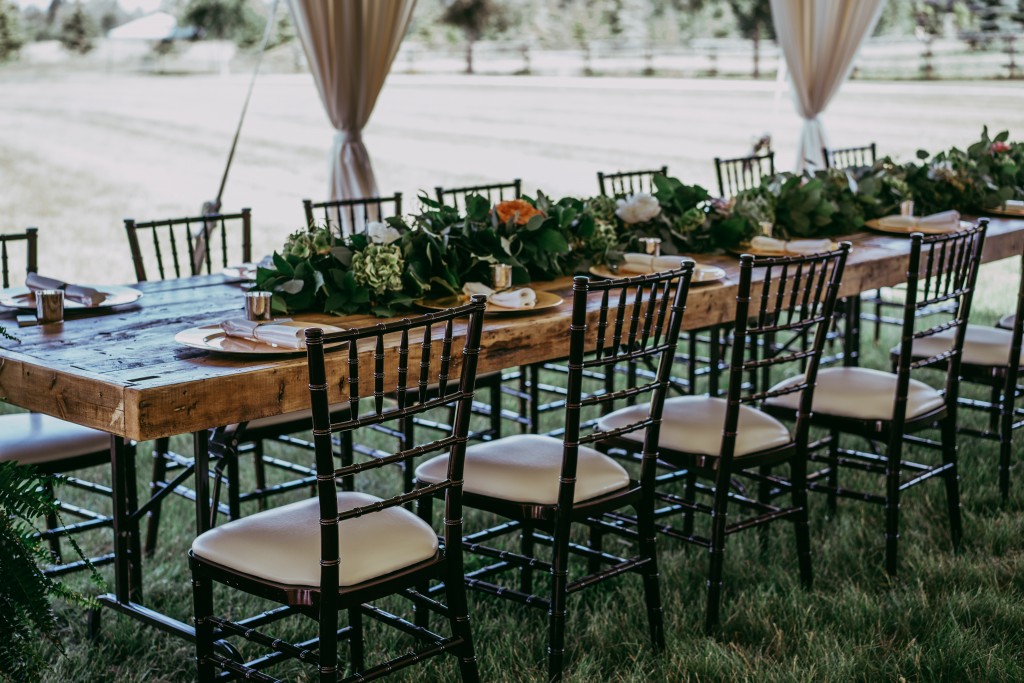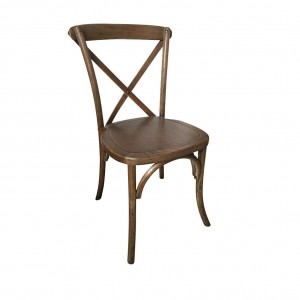 NEW! Beautiful Vineyard wood cross back chairs. 
Our premium resin chairs are the best quality chiavari chairs with a superior padded cushion that sticks to the chair with velcro- nothing to tie and no slipping! They always look Fabulous! 
We offer you the Best Resin chiavari chair in the province at a price similar to the rental cost of just a chair cover and sash from many rental companies! Compare our chairs with anyone else! Visit our Showroom!
Learn More and Compare! Find out what makes our chiavari chairs superior. Chiavari chairs are made from either metal, wood or resin. Steel chairs are the cheapest quality and usually have fewer crossbars built into the frame from what you would see in a classic chiavari chair. Both wood and steel chairs have a painted surface. Scratches, chips and other wear and tear from stacking chairs and transportation expose the wood or metal directly below the paint surface giving a poor impression. Our high quality resin chiavari chairs have the classic look you want, and the resin colour is all the way through the chair, so they always look great!.  We use a protective slip cover when transporting our chairs. Our single piece chair frames do not have screws or bolts, so they do not wobble with usage like wood or steel frames. Unlike a cheaper cloth seat cushion that ties to the back of the chair, our superior seat cushions are made using dense foam and have velcro on the chair and cushion so they stay in place and don't slip around. No time wasted tying cushions to chairs during setup and take down. Call All West Wedding Rentals to get the best for less!






Voted Top 5% in the Wedding Industry!

THE Best Chiavari Chairs in Edmonton from $3.95 with rental of other items

Cross Back chairs from $4.95 with rental of other items

Harvest Pine Folding Tables 6 ft only $45 and 8 ft table only $60

Chair covers starting from 99 cents with linen rental: Scuba, Spandex, Universal


Decor items: 8′ Eucalyptus garland with lights $20, lanterns $10, Charger plates 85 cents
  Nobody does it better! We have a commercial location with a showroom, on-site cleaning and storage.  You get fresh, clean linens that are ready-to-go! We control our quality so you do not have any unpleasant surprises. View our customer past wedding pictures for ideas and be sure to read past customer reviews.
Free Consult! Make an appointment to discuss your special event plans and how we can help make your day Fabulous and Affordable!
We offer the best value, for the best price, of any commercial rental company in Edmonton!